Weightlessness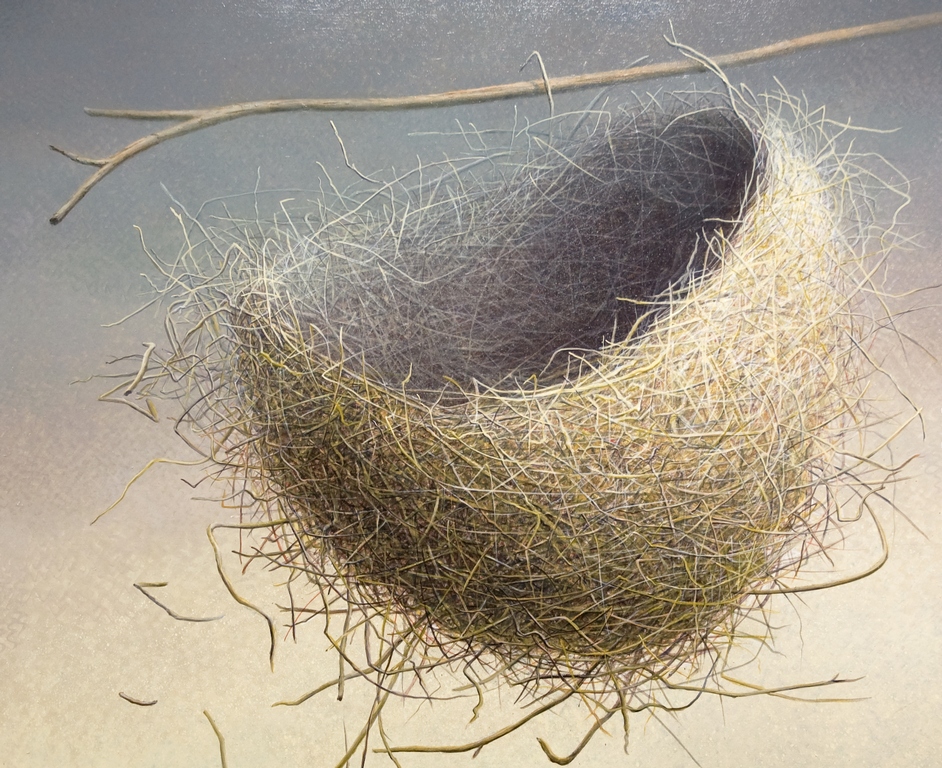 refuge
The idea of weightlessness pervades much of Hanna Kay's art: fragile nests of creatures suspended from tiny twigs, floating sticks in ponds; grasses that sway with the gentlest breezes; ethereal reflections; and hovering, languid nudes.
The artist used the term "weightless" for a floating nude she painted in 2004. The work exudes that wonderful feeling many of us experience at an early age: the first moment of confidence when we learn to swim, of being suspended and weightless in water.
This survey exhibition of Hanna's pictures covers several themes with which she has been preoccupied over many years: nudes, habitats, waterscapes, hay-scapes and ground-view scenes that she simply calls "scapes." The themes are not as diverse as they first sound. There is a gradual progression of ideas and painterly styles that connect many works over a long period.
Hanna is uncompromising in the pursuit of her goals in art. She would not take on work that would take her a long way from her key interests. However, she is stimulated by new challenges, such as the recent commission to paint graveyard pictures, morbid as the idea first seemed to her. She realised that she could unflinchingly accept such a commission provided it aligned with her quest to portray the intrinsic qualities of light and water.
As well as the idea of weightlessness, Hanna's fascination with water has appeared in many of her paintings since 1990. Writer Lauren van Katwyk recently described the way Hanna adeptly captures water's reflections, stillness and clarity. These qualities, said van Katwyk, were also human qualities: just as rivers forged paths through new terrain, so people ventured to new territories, hopes and aspirations. [footnote 1]
In 2008 Hanna wrote, "The ethereal qualities of water seduce me. Its physical and optical properties fascinate me. On one hand, the elusive nature of a surface that reflects its surroundings, that absorbs the light, and that interacts with the atmosphere. On the other hand, water is a substance with no intrinsic formal characteristic such as colour or form, and yet causes its physical environment to be in a state of continual flux." [footnote 2]
"While painting," Hanna has said, "I don't think about what the work says. A painting of mine is not a statement. Rather, it is a droplet in an infinite stream of artworks, some of which I will make, while others will remain part of an imaginary necklace." [footnote 3]
Hanna's paintings over the past 20 years suggest that the attainment of beauty is far from her key concern. In fact, she often remarks how her early doll pictures were "quite horrible." Ugliness attracts and holds attention, often more than beauty does. I carefully watched gallery audiences at Hanna's touring exhibition, Undertow. Although people at first seemed uneasy about the theme of a cemetery, they gradually became absorbed by the calmness, serenity and profundity of the watery views. Time spent viewing works is always a good test in gauging audience reactions to art. At Hanna's Undertow, visitors spent long periods in front of the pictures.
The captivating detail in Hanna's pictures is not painted for its own sake. The close focus stems from Hanna's intense study of the 16th century masters' classical paintings. She uses the medium of tempera, which entails laboriously building up paint surfaces, layer on layer, to achieve a glowing and intense quality in her work.
There are wonderful nuances of colour in Hanna's paintings, even though her general colour schemes are predominantly greys. If we say to an artist, "the sky is blue," the artist will inevitably retort, "yes, but there is also a multitude of pinks, mauves, oranges and golds." Hanna wrote, "Any surface, devoid of colour as it may be, teems with the activity of colliding colours. Unlike other artists who get a buzz from primary colours, I get a kick out of greys. I mix lots of different colours into grey. I love creating greys with just a nuance of pink, yellow, or purple, which set up vibrations on the composed forms. I use this gamut of colours for painting nude women."
Intriguingly, Hanna has readily adapted to her rural environment in the Hunter Valley, having earlier led an extraordinary life in cities such as Tel Aviv, London, New York and Sydney. "All my life I have lived with city hum as a backdrop for my dreams, and now the sound of silence has taken over," she said. [footnote 4]
Hanna and her film-maker husband, Leslie Wand, live in Blandford, a blissfully quiet village surrounded by rolling hills north of Muswellbrook. Leslie says that this is as far away from the humdrum world as possible. Here is the ideal setting for the couple to concentrate on their creative endeavours.
Surrounded now by wonderful landscape, Hanna has chosen to paint close-up views of the land, such as tractor tyre tracks in the mud, pebbles in pools, details of hay bales and interiors of bird's nests. Such intimate views allow us to focus on intrinsic and finite elements of the land. She has not been tempted to paint the romantic idyll, nor distant scenes in the grand manner of English Romantic painters.
In some ways Hanna's overhead views of the land relate to works by contemporary Aboriginal artists, such as Dorothy Napangardi, whose pictures conjure up ideas of tracks in the land seen from above, or Ada Bird Petyarre, whose canvases focus on the leaves of plants.
Hanna's commitment to her art is admirable. Her works have a mesmerising and meditative quality. They take us to another place.
Katrina Rumley
[footnote 1] Lauren van Katwyk, education kit for Hanna Kay Undertow exhibition, Maitland Regional Art Gallery, July 2010
[footnote 2] Hanna Kay, essay on waterscapes, 2009
[footnote 3]Hanna Kay, Notes from the Shed: a journal, Macmillan Art Publishing, South Yarra, Vic. 2007
[footnote 4] Hanna Kay, Notes from the Shed: a journal, Macmillan Art Publishing, South Yarra, Vic. 2007